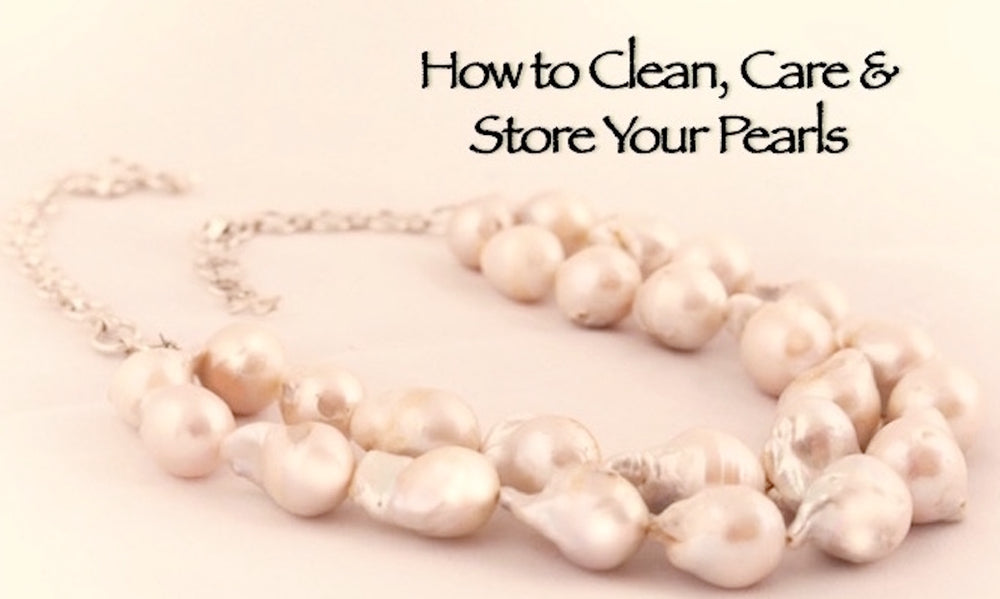 Every woman needs a classic pearl in her jewelry box. It goes without a word that a pearl adds simple elegance to any outfit. Compared to any other gemstones, pearls are softer and extremely delicate. To ensure longevity of the pearls you own, one must take some precautions.
Care
Pearls should be last thing you put on when you go out, and the first thing you take off when you return home.

Pearls & acid are not friends! Pearls should never come in contact with any kind of chemicals like perfumes, hairspray, creams, moisturizer or excess of water.
Gently wipe your pearl jewellery to remove any dirt, sweat or excess oils, after use.

Don't wear them while exercising, to keep them away from perspiration.

Don't wear them while in shower or swimming.

If pearls are used regularly, one must restring them once a year. Strings often get weak with time.
Cleaning
Wipe pearls with a soft brush or a clean cloth before storing them away.

Use distilled water for cleaning, as usage of any other kind of water which might contain chemicals can damage the surface of the pearl.

Never expose your pearl to ultrasonic or steam cleaners to bring back the diminishing lustre. It can prove harmful to the pearl.

Let the professionals clean your pearls who will do the process of cleaning carefully.       
Storage
Do not keep them anywhere close to metals in storage. These metals can scratch on the soft surface of a pearl. Preferably keep your pearl jewelry pieces in individual or  in separately compartmentalized jewelry box.

Roll them up in a soft cloth (silk, cotton) and store them separately.

Don't seal them in an airtight container, allow space to breathe.

Never store them in plastic bag as the chemicals emitted by plastic can damage the pearls.

Store your pearl jewelry flat and avoid hanging them as it will strain the string, making it weak sooner.

Avoid too much exposure to sunlight when kept in a storage box, which can cause the pearl to turn yellow.

Also avoid the pearls to be kept away in a locker for a long time, which will cause dehydration of pearls. When the environment is too dry, the pearls may crack.                        
Now that we know how easy it is to take care of pearl jewelry, pull out yours. You can also shop from our pearl collections 'Baroque Bloom', 'Meenakari Pearl'.
After all, as the saying goes "Pearls want to be worn". Go wear them & flaunt!