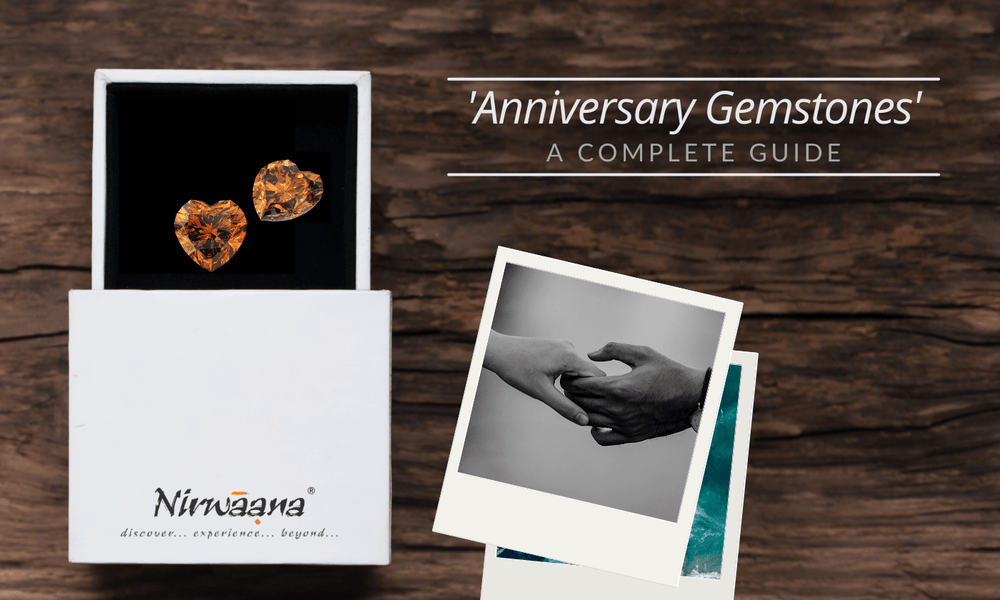 Anniversary Gemstones by Year
We all have known about birthstones. But did you know there are specific gemstones to mark celebration of each anniversary milestone? Well yes, wedding anniversaries too have gemstones associated. Here we've compiled a list of "Anniversary Gemstones by Year" or for each year
Next time you want to pick a gift for the wedding anniversary, make it super special! There is nothing is better than a gemstone jewelry, devoted to a particular anniversary.
Cheers! ...to the exceptional bond!
1st anniversary: Gold or Peridot
Gold will be the perfect gift for 1st anniversary! Though not a gemstone, it has its own charm just like the newlyweds and thus makes the perfect gift for the couple or the partner. So yes, pick a gold jewelry piece from the immense options such as, bracelets, watches, earrings, jewelry sets, cuff links and so much more which will reduce the hassle of gift selection.
However if you are a fan of gems & crystals just like us, Peridot, the light green beauty, is also a traditional 1st anniversary gemstone.
2nd anniversary: Garnet
Garnets symbolizing love, purity & empathy, are a perfect gift for the second anniversary. Perfect to depict the colors of a happy marriage that adds to an individual's life. The most popular Garnet to be gifted for the 2nd anniversary is Red Garnet. Read more about Red Garnet here.
3rd anniversary: Pearls
Pearls are one of the most natural and soothing creations of nature and that makes them a perfect gift for a third wedding anniversary signifying that the couple has officially settled down. From a pearl necklace to an original pearl as a souvenir, anything and everything is memorable.
4th anniversary: Blue Topaz
A gemstone traditionally associated with love, is also believed to make the person more deferential. Makes it perfect 4th anniversary gifting gem!
5th anniversary: Sapphire
Sapphires are as desirable as diamonds and the most popular remains the classy blue sapphire. Blue sapphire is the gemstone when you are celebrating completion of 5 years. It is a durable gemstone that will last a long time, which is exactly what it indicates, 'long lasting love'. It is also believed that the color of stone fades to lighter blue with greenish tone, if the fondness is affected.
6th anniversary: Amethyst
The property to protect its wearer against any negative quivers, makes this beautiful gemstone a perfect anniversary gemstone for the 6th year celebration.
7th anniversary: Onyx
Seven-year itch! What is that? ;)
Well we are celebrating with this gorgeous gemstone that symbolizes happiness! It is also believed to fight off any negative energies to re-iterate or re-store confidence in love. Perfect 7th anniversary gift.
8th anniversary: Tourmaline
A gemstone of companionship! The 8th anniversary gemstone, also believed to encourage compassion. It comes in various colors, most popular being the watermelon tourmaline.
9th anniversary: Lapis Lazuli
Color blue is known to represent friendship, depth & loyalty. So is this royal color blue gemstone that protects its wearer against negative energies and motivates integrity. To know more about the 9th anniversary gemstone 'Blue Lapis Lazuli' read here.
You could take a look at coordinated jewelry for men & women crafted using Blue Lapis Lazuli, from our collection 'Him & Her' here.
10th anniversary: Diamond
The next and one of the most significant milestones for any couple is the 10th Anniversary. It really deserves something special and what is better than a diamond in this case. Diamond is believed to symbolize the 'unceasing flames of love & affection'. A beautiful diamond couple coordinated jewelry would be always be a good choice.
15th anniversary: Ruby
The lovely rubies are nothing but the symbol of all things love. It is even believed to have powers to repair souring relationship & melt away any obstacles in the path of love & happiness.
Since you've had a long way in this journey you surely deserve rosy 'Rubies' this time.
20th anniversary: Emerald
It's time to gift another special stone that is only kept for special occasions because of its rare charm and antiquity. Emeralds are precious and are at times even better than diamonds if you're lucky enough to find a real valuable variety. The gemstone is traditionally recognized as a one of the most favoured present exchanged between the lovers.
Gift this 9th anniversary gemstone for the occasion and this day will always be remembered.
25th anniversary: Silver
Well, not a gemstone but what better than 'Silver' to celebrate the 'Silver jubilee of your precious bond'. No matter how cliché it sounds, silver is the right gift for 25th anniversary celebration. Embrace this period as this is a rare occasion and only a few get to live it.
50th anniversary: Gold
It's time for a milestone that will be written in golden words. Can you think of something better than gold for this occasion? We don't think so. Choose gold as you did for the first anniversary and reminisce about all those valuable moments which you both had together in this long and wonderful ride.
100th anniversary: 10 Carat Diamond
Wowieeee! 😍 Very well deserved indeed 🙌
We are not going to dilute the moment of overwhelming joy this unconquerable bond has brought to you, with our words. Cherish it!
We do hope we've saved you some time for brainstorming a perfect gift, for the occasion.
If you can't find the milestone anniversary year you are looking for, in the above list, do write to us and we shall be happy to assist with details of the specific 'anniversary gemstone'.
Don't miss to check out the styles from our anniversary gifting collection 'I STILL Do!' here.